United Kingdom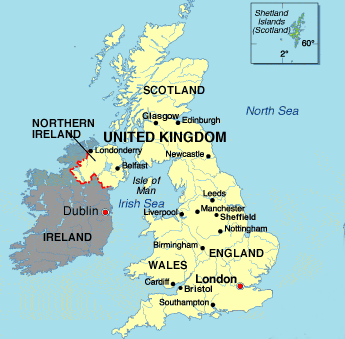 The weather took a violent turn on Wednesday evening across western Ireland as a tornado briefly touched down near the town of Galway, according to BBC News . The tornado reportedly toppled many trees while also damaging several homes. Several hundred homes remained without power as of Thursday morning, local time. The worst of the weather shifted into England and Wales Thursday and Thursday night as thunderstorms brought flash flooding to several areas including Dover and Cornwall. Several roads, homes and businesses were impacted. The low pressure system responsible for the unsettled weather is now moving away from the United Kingdom. Just a few showers are possible tonight before a ridge of high pressure will build into Ireland and most of the U.K. on Saturday. This high pressure will keep most of the region dry on Sunday as well. With some sunshine expected, temperatures throughout the region will rise into middle teens to near 20 degrees C (59-68 degrees F) during the day across Ireland, Wales and England, making the weather favorable for leaf peepers and most any other outdoor activities. The average high for early October in London is approximately 15-16 degrees C (60 degrees F) while Dublin's average high is typically around 15 degrees C (59 degrees F). A weak frontal boundary will bring more clouds and even some showers to western Ireland, Northern Ireland and western Scotland on Sunday, while the rest of the United Kingdom will be dry with some sunshine.
30/09/2013 – France – Europe France on Monday took delivery of the first Airbus A400M military transport plane to be built. The pan-European aircraft maker hopes the sale will lead to hundreds more across the world. 22/09/2013 – World news explained A New York-based think-tank has proposed a plan to ease tensions between China and Taiwan. 20/09/2013 – World news explained A year away from a referendum on Scottish independence, opinion polls show only a third of voters are in favour of splitting from the United Kingdom.The "no" camp says independence … 02/09/2013 – France – US – Syria The French government is due to present evidence to senior lawmakers that it claims proves Syrias Bashar al-Assads regime used sarin gas in a deadly attack, prompting calls for … 30/08/2013 – France – Syria – US France is still ready to take part in attacks on Syria, despite the British parliament's vote against participation, President Francois Hollande told Le Monde newspaper on Friday. 26/08/2013 – France – Syria The West will soon decide on a response to last weeks alleged chemical attack in Syria, says French Foreign Minister Laurent Fabius, as western powers consider the possibility of military … 25/08/2013 – France – Syria France believes that President Bashar al-Assad's regime used chemical weapons against Syrian civilians in the much-publicised attack this week, President Francois Hollande said Sunday. 22/08/2013 – France – India A rare Asiatic lion cub has been born in a French zoo, officials said Thursday. 20/08/2013 – World news explained
United Kingdom Tourism Report Q4 2013 – New Study Released
However we are calculating a slight decline on our previous Q4 forecast as the continuing economic downturn in much of Europe over this period is likely to act as a deterrent for potential tourists. However the other regions are forecast to see a growth in arrivals over 2013 and we have increased our forecasts for inbound tourists from these regions. After a period of significant infrastructure development and hotel-building activity in the run-up to the 2012 Olympic Games, the scene may now be set for more modest overall growth in the UK's hotel industry. Recent developments include: – Accor is launching a new brand in the UK, the Adiago aparthotels, the first of which opened in Liverpool in March 2013. – The group also re-launched their Mercure hotel in London in June 2013, following an extensive redesign of the hotel. It is the flagship UK hotel in a brand Accor is hoping to double the size of by 2016. – Over the past quarter ICHG has signed three new hotels to its Holiday Inn brand. UK construction company Balfour Beatty secured a contract worth GBP121mn (US$181.5mn) to build a hotel, leisure and apartment complex for Grove Developments in North Greenwich Peninsula in London. – China-based commercial property and entertainment conglomerate Dalian Wanda Group is to develop a hotel and residential project in London. – UK conglomerate Rigby Group has acquired a majority stake in Exeter International Airport. – The GBP80mn (US$123.5mn) redevelopment of the terminal at Stansted Airport has begun. – UK airports operator Manchester Airports Group (MAG) has awarded BAM Construct, Carillion and Galliford Try a contract for its capital delivery programme framework worth up to GBP100mn (US $156.65mn) annually. – Birmingham International Airport has detailed plans to expand its capacity to rival that of Heathrow.